Copyright: MBWSV Nordrhein-Westfalen
Solar Roof Tile.NRW - Decentralized power and heat supply made in NRW
Project partner: University of Applied Sciences Cologne
This project is funded by the European Regional Development Fund (EFRE). 
The systems which are currently available on the market include a further receiving system which is typically installed (raised) on a roof already covered with roof tiles, which then receives panels (solar power or solar heat). The "disfigurement" and the insufficient use of the roof surface are (in addition to the installation costs of such a "double roofing") the serious disadvantages of this system. The usage of a solar roof tile instead of a "normal" roof tile is a quite obvious solution. However, it requires a very efficient design to be able to mount these solar roof tiles quickly and easily on the existing roof battens with different lath spacing. It also requires a roof system, which guarantees the supply and discharge of the fluid (in case of solar heat) and electricity (in case of solar power - also called photovoltaics). We are developing these solar roof tiles and roof systems and have patented them in different patents. Our solar roof tiles have the same dimensions and the same weight as comparable roof tiles made of clay, but are considerably more stable, more durable, walkable and storm-proof. 
As part of the above-mentioned, EFRE-funded research project in cooperation with the University of Applied Sciences Cologne the solar roof tile is being further developed and optimized so that it can be mass-produced and used like a conventional roof tile. The focus is on both the individual solar roof tile and the overall system, i.e. the series connection of several solar roof tiles. The performance of the system is examined in tests in the laboratory and on roof areas.
---
---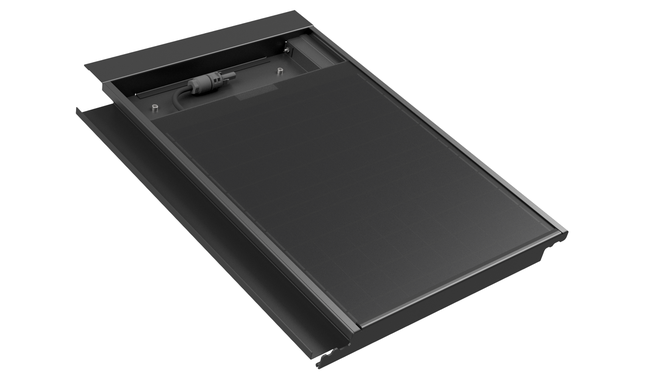 Solar Roof Tile MH Planum               Solar Roof Tile MH Plain Tile
The solar roof tile MH combines photovoltaics (electrical energy production) with solar thermal energy (thermal energy generation) through the formation of an air duct, which arises as a result of the overlap of the individual solar roof tiles. At the same time, this air duct ensures ventilation and thus cooling of the solar cells, which increases the efficiency of power generation and the life of the cells. With a heat pump the heated air can be used for domestic water heating or underfloor heating.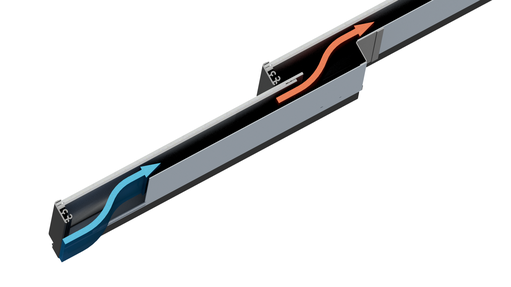 The dimensions and weight of the solar roof tile MH correspond to those of normal roof tiles. It can be laid in a conventional way and replaced quickly and safely. The solar cells are not visible from the outside, which preserves the look of a normal house roof.
The power density reaches up to 170 W/m². Therefore only 60 m² of solar roof tile area is necessary to get a 10 kWp (STC) PV-system. The rest of the roof area is covered with inexpensive complementary roof tiles.
Because of the small module format, even rugged roof areas can be optimally utilized and shading can be compensated significantly better.
The solar roof tile MH can be designed in different designs and colors.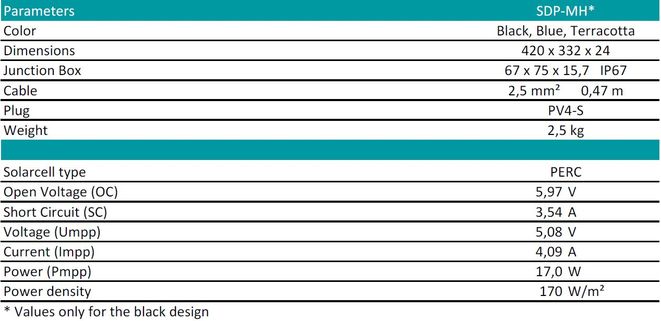 Advantages of the solar roof tile MH:
Optical appearance of a normal roof (cells are invisible)
Cooling despite of building integration
High power density
Maximum utilization of the roof area
Best shadow compensation
Solar roof tiles are walkable
High electrical safety due to shut down of each module
Different colors possible (high transparent multilayer coating)
Long lifetime due to glass/glass design
Defrost function
Optional waste heat usage with heat pump
With the solar roof tile MH we are currently in the first series phase. At our home fair in September we will show the first testet and certified serie. At the Intersolar Europe trade fair in Munich (May 2019), we presented this solar roof tile variant to the public for the first time. Next year we will again exhibit at the Intersolar Europe trade fair in Munich (June 2021) and present the fully functional series on sample roof areas.
For the production we are looking for additional investors and partners. If you would like to promote this project together with us and lead it to success - then we look forward to hearing from you:
The solar roof tile FH combines photovoltaics with solar thermal energy using a fluid that cools the solar cells and whereby the heating system can be directly supported.
The solar roof tile FH combines photovoltaics with solar thermal energy using a fluid that cools the solar cells and whereby the heating system can be directly supported.
The chain of tiles with "snap-in system". Astonishingly easy and quick to use is the "snap-in system", with which a roof can be covered just as quickly as a roof with normal roof tiles. Due to the length variability, the tiles fit to the normal slat dimensions (the distances of the slats vary by up to 10% depending on the length of the roof and the number of tiles, so that an integer number of tiles can be covered uncut)
Performance data for a solar roof tile FH:
4 wafers (12.6 cm x 12.6 cm) each with 0.6 volts MPP voltage and 4.1 watts peak
1 absorber (33 cm x 30 cm) with heat exchanger
thus 16.4 watts peak electric per solar roof tile (STC)
thus 30 watts peak thermal per solar roof tile*                                  (*at 50 degrees Celsius temperature difference and 1000 W/m² irradiation)
Visual dimensions of the solar roof tile at maximum coverage:                  30 cm wide, 36 cm long / high
A roof side of a saddle roof of a "typical"single-family house with 12 m roof width and 7.2 m stretched roof length/height would have:        40 tiles in width and 20 tiles at maximum coverage in height, so in sum 800 solar roof tiles
the electric power would be 13.12 kW peak and
the thermal power would be 24 kW peak
This energy yield in photovoltaics is actually achieved with the paXos solar roof tile FH, while conventional systems degrade in summer from 25 degrees Celsius with about 0.4% per further degree of heating, ie. often bring significantly less yield.
Note 1: As a kind of "hidden performance", the paXos solar roof tile FH offers a much cooler attic in summer, which in turn requires no or significantly less air conditioning power.
Note 2: The performance data for the roof refer to a roof without dormer, skylight, antenna mast or similar.
However, such "yield-reducing" elements are less problematic with the paXos solar roof tile FH than with conventional panels because these elements can be bridged and need not be recessed with the area of an entire panel (or several).
Note 3: If in summer the photovoltaic is cooled to an optimum of 25 degrees Celsius in order to have the maximum yield, it will be cooled with a patented "cooling chimney" - more on that under the cooling chimney tab. But that would also mean that the yield in solar thermal energy would be correspondingly low. This can be remedied / changed by three things.
The last three to five tile rows could be designed with pure solar thermal roof tiles for "reheating"
A controller which deliberately allows a higher temperature (less cooling) for the charge of the buffer for some time
Additional heating with electricity in case of need (for showering, etc.)
Which of the three options (sometimes in combination) are used depends on the individual needs and the orientation of the roof surface.
The solar roof tile FH is in the prototype phase and is currently being tested for industrialization together with our partners.